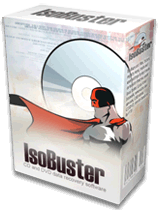 Overview:
Isobuster is a small, easy to use, powerful tool that will recover your lost files and data. It is very efficient, fast and compatible with all windows versions. You don't have to frustrate about any file loss. Just install isobuster and run it to rescue your important files. The program supports all media types, disc formats and common file systems. The program has a lot of useful features and available at a reasonable price which make it one of the best choices available for you.
Homepage
:
https://www.isobuster.com/isobuster.php
Current Version
: 3.8
Release date
: June 24, 2016
Size:
4 Mb
Download and Installation:
The program can be downloaded easily from the official website here:
https://www.isobuster.com/download.php
It is 4 Mb in size and compatible with all windows versions from windows XP to 10. It supports both 32 and 64 bit versions. Program requirements are minimal. Installation is very easy. Double click on the installer file downloaded on your computer and follow simple on screen instructions to have the program installed on your computer. After installation, you can continue using the free version, simply click "free functionality button" when prompted. If you try to use any of the paid features, you will be prompted to register (paid license). No hidden features are built in the program.
The free version can be used with no limits on any system. If you want to enjoy the paid version, you have to purchase an original license to continue using the program. This will help more development of the program.
Isobuster License Model and purchase:
The program has a free version that's available for anyone. The registration will let you enjoy more features that will save your important data and at a reasonable price. There are two paid licenses: personal and professional. For full comparison of the features available in the three types, check this page: 
https://www.isobuster.com/license-models.php
You can complete your purchase by visiting this page:
https://www.isobuster.com/bn.php
Registration:
After installation you will be prompted to register the program with the first launch. You can do this later using registration button under help menu. Simply fill the form with your email used during purchase, registration ID and key then click "Register" while connected online. Paid features will be unlocked. That's all!
User interface:
The user interface is very friendly and easy to use. It consists of menu bar that include three buttons; file, options and help. Toolbar which include options to open image files, refresh and help. Media bar which shows the type of media opened. The lowest bar include options to list files, show details and move to the above folder. On the right side there is the drop down search box. The main program area includes left panel with tree arrangement of media and folders. The right panel includes detailed list of the left sided selections
Languages:
 Isobuster supports more than 40 languages. If you want to add any language or update it, simply download the language dll file from the site here:
https://www.isobuster.com/translations.php
Then copy the file to Lang folder in the installation directory of the program. To change a language, simply select the language you want and click OK. 
Menus:
File menu:
includes options to open image file, open recent, recovery, hard drive, exit
Options:
Help
:
Features:
Data recovery from all types of media including  CD, DVD and Blu Ray formats, Hard Drives, USB flash, memory sticks, media cards, SD, Micro SD, and so on.
Does not rely on Windows to provide or interpret the data (No Windows' limitations).
Better error handling and several retry-mechanisms to aid you in getting the data anyway.
Use generic and alternative ways to get to the data.
Use primary and secondary file systems to get to the data and/or make use of file system data.
Read and Extraction of files, CD/DVD images, tracks and sessions from all optical media.
All sessions, including older ones, are accessible and can be recovered.
Supports mounting several virtual sessions inside a single DVD+RW or DVD-RW track.
Scanning for lost UDF, ISO9660 / Joliet, IFO / BUP / VOB files. Also scan for files based on their file-signature.
Scanning for lost, deleted FAT, NFTS and exe files and folders.
Built in UDF Reader and HFS Reader
Auto find extensions based on file content to try and give an appropriate name to an orphaned file.
Undelete FAT and NFTS
Support Partitions; such as DOS / Windows, HFS / Mac Partitions
Extended Master Boot Record (EMBR) Partitions
Finds VIDEO and AUDIO IFO / BUP / VOB file systems independently from other file systems.
Information and file system properties (a must for FS developers).
CD/DVD/HD DVD/BD Surface scan to see if there are physical read errors.
Check if all files and folders are readable without having to extract all data to HD.
Sector extraction and viewer available.
Compile (and edit, save, print) lists of all files that contain physical read errors.
Creation of image files (*.ibp and *.ibq,*.iso, *.bin, *.tao.) from all possible media
Conversion of all supported image files to iso/tao/bin/cue/ibp/ibq files.
Creation of checksum (*.md5).  and cue sheet files (*.cue). Also Opens checksum files (*.md5) and automatically verifies the image with the checksum file.
Support for command line parameters.
For The full list of Features in details, please check here:
https://www.isobuster.com/isobuster.php
New Program Features:
The new version has tons of new functionality, improvements and the few needed bug-fixes. Improvements for the visually impaired, clean new icons, support for *.vdi, *.vhd, *.vhdx files, 4Kn drives with native 4096 bytes per block, and so on. Best just check the huge list here:
https://www.isobuster.com/news/isobuster_3.8_release_notes
How isobuster works?
IsoBuster recovers data from CD, DVD, BD, HDD, Flash drive, USB stick, media card, Compact CF, MMC, SD, Diskette, SSD and more via NTFS, UDF, FAT, HFS, ISO, IFO / VOB and file signatures
The first step is to select the disc or drive that is the problem and you want to rescue or recover files. Second step you have to select the file system you want to explore. Now in the third step, you have to see what IsoBuster finds. If it doesn't immediately show the files you're after, right mouse clicks the top most icon in the left pane and select "Find missing files and folders". A full medium scan will then reveal the missing data, even based on file signatures. Finally, you can now easily recover your video, your precious pictures / photos, saved documents, audio / music, multimedia, text files etc.
Select Drive / Image File:
Simply have to use the drop down box on the top left-hand side.  All the devices found during the system scan are listed there. To open an image file, click on the Open Image File button in the toolbar. Once opened, a virtual device will be added to the drop down box on the top left-hand side. Once the image is closed will the virtual device be removed again. The "Open Recent" option allows you to quickly open previously opened image files.
Supported file system:
The File System describes where and how on the media the files and folders are located It is a combination of structures, records and tables located in different blocks on the medium.  A disc or disk can contain several different File Systems so that different OS can use the most suitable one. Examples of supported file systems; ISO9660, Joliet, Rock Ridge, CD-i, UDF, FAT12, FAT16, FAT32, NTFS.
Isobuster Actions:
The actions offered by the program depend on the object selected by the user. Many objects are available such as session, track, partition, file, folder and so on. Right clicking the object you select will offer you different options built in the program.
Right click menu of the drive or image file:
Right click menu of the files recovered:
Important note for all users is that if the CD / DVD / BD / HD DVD reader cannot mount media anymore because it is beyond recognition, in that case IsoBuster will of course also not be able to access the media.
Find Missing Files and Folders:
This life saver built in feature helps you to recover your missing files and folders whatever the media used. When you right click and run this tool, you will be prompted to create an image file; this is the managed image file. This can take some time if the media is damaged (for example bad or damaged disc). Further scan and recovery will be done on the managed image file. IsoBuster will read all sectors in the session or partition and will try to find missing files using different techniques. The recovered files are present in "Lost and Found Root Directory" and usually have no name; these are called unnamed or orphaned files. The program will try to add extensions for these files according to its type and save it as recovery files. Finally, the recovered files  can be extracted in the usual way.
Extraction:
After complete recovery, you can extract any file or folder. Simply right click and select extract (in bold). If you are not sure, simply copy any file or folder from the CD, DVD or image file to another location (e.g. your Hard Drive).
If the file to be extracted is of the exe type you can select run; In this case it will be extracted to a temporary folder before installation. Also you can select extract and run to specify its location before run.
If you are trying to extract images, it will be better to use "extract raw" which is the preferred method.
Other extraction options supported by the program include extraction RAW but convert to user data (supported only on CD) and extract but filter only Mpg frames
Extraction of a CD or DVD:
In extraction, the program has a built in feature that lets you select directories; either content or images to be extracted and the file type you want.
In case of content extraction; all Sessions and tracks are extracted separately, one by one.
In case of image file extraction; The Image File creation tool will be used to create an image file of your CD or DVD.
Extraction of a Track or Partition:
 Extraction of a track is used to extract an audio track to a wave (*.wav) file.  This will extract the audio similar to RAW extraction.  A wave file is a raw audio track with a small header in the beginning of the file.  If you select 'Extract Raw'; the same file will be extracted without the small header in the beginning. For Partitions it is sometimes useful to be able to extract just the partition as an image.
Extraction of a Hard Drive, SSD, Flash Drive, SD Card:
Can be extracted in the same way as content or image. In case of content; the partitions will be extracted separately, one by one to *.img files. In case of image files; Image File creation tool will run and create an image file of your hard disk or USB drive.
Settings:
Isobuster has a lot of options and settings that make it highly configurable. The settings are set to the default level that is suitable for most users. The settings include;
Communication:
This setting includes options to finding device, read settings, custom read remapping and scan setting
File system:
This setting includes general options, recovery of lost data, files and folders, ISO9960 and extensions, UDF, HFS, IFO/VOB, SIG, FAT, NFTS, EXT
Language:
This option lets you change the program language according to your need. It supports more than 40 languages
Image files:
This setting includes general options, ISO/BIN/TAO/IBP, supported image file extensions, and plugins
GUI:
This setting includes options for font, icons, progress, beep, messages, professional/advanced
Online check for updates:
Temporary folder:

location and option to specify another folder
Pros:
Recover lost data, files and folder
Create and convert image files
Support all media types
Easy to use with friendly user interface
No windows limitation
And many more
Cons: None
Conclusion:
IsoBuster is must-have-software for every PC user. It will help you to recover lost or deleted files from all media formats such as a bad or trashed CD, DVD or a Blu Ray disc, hard Drive and many more. It will save your important documents, precious pictures or video from the family. In addition, it is available at a reasonable price.