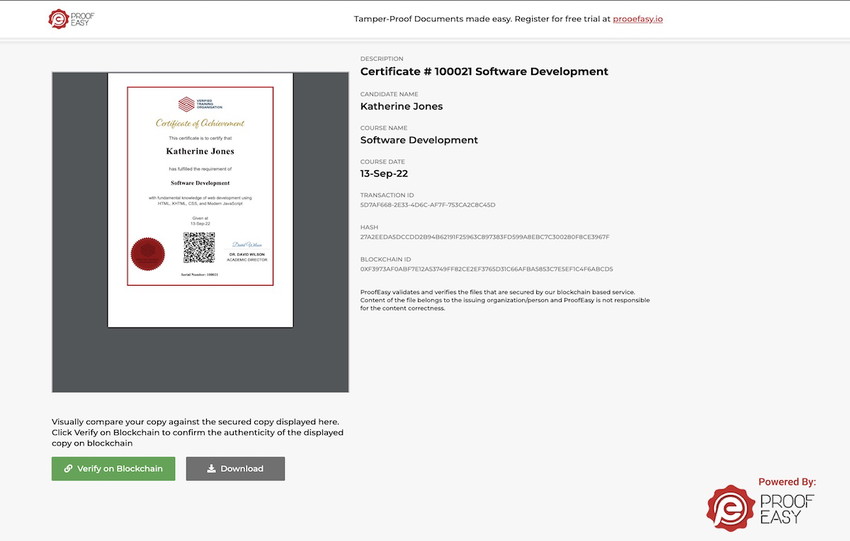 Whether it's your diary or your tax documents, you don't want your sensitive information to end up in the wrong hands. ("I need a secret hiding spot to keep track of all my secret hiding spots.")
Going digital would help you stay more organized, but storing all your confidential data on a random server means you're vulnerable to forgery, theft, and duplication.
If only there was a tool that helped you keep your documents, reports, and certificates secure, especially when you're sharing them.
Overview
ProofEasy protects and verifies sensitive documents using patented blockchain technology, so you can share them risk-free.
With ProofEasy, you can secure your sensitive documents via blockchain to protect them from theft, forgery, and duplication.
All you have to do is place an encrypted QR code anywhere on your uploaded document to make sure it's totally secure.
And because QR codes are embedded with important data like hash codes, blockchain, and transaction IDs, you can verify documents with one click!
Plans & features
Deal terms & conditions
1 Year of FREE access to ProofEasy
1 year of Basic Plan updates
You must activate your license within 60 days of purchase
This deal cannot be upgraded or downgraded between license tiers
GDPR compliant
Only for new ProofEasy users who do not have existing accounts
AppSumo Exclusive Offer: 25% off annual renewals or any upgrades to higher plans
https://appsumo.com/products/proofeasy/