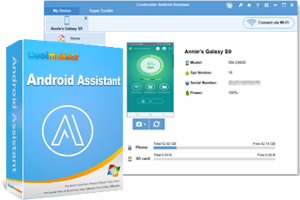 Coolmuster Android Assistant is a lightweight application that enables you to export the critical data from your mobile device to your computer for safekeeping in just a few clicks.
Even though you do not need to download or install a mirror application for your mobile device as well, you should know that you need to enable the USB debugging so that you can create the connection between the two devices. If you are having troubles with that, then do not hesitate to read the instructions provided within the app.
The program allows you to browse several types of data on your mobile device, namely applications, contacts, SMS, music, photos, videos and books. In case you are unable to preview the contents of the desired section, then you can remedy this minor inconvenience by accessing its subfolder. The tool permits you to view various information that is relevant to the next action that you want to take. Therefore, you can preview the installed along with their size and versions and decide whether you can afford to keep them on your phone, for instance. Moreover, you can view, edit, add and delete new contacts in your address book or transfer large pictures and videos to your PC.
In case you are looking for a solution that enables you to quickly transfer critical data such as contact details, photos, videos or messages that you want to save, for instance, to your PC without too much hassle, then perhaps Coolmuster Android Assistant could come in handy.
HOW TO GET IT:
Go to the promotion page ( https://www.coolmuster.com/giveaway/andr...stant.html ) and fill out the form: enter your first name, last name and email address. Try using a fake name and a temporary email service like https://10minutemail.com/ , to avoid sharing your personal data.

Click the Submit button and you will receive a license code.

Download the program from the following link: https://www.coolmuster.com/downloads/coo...istant.exe

After installation, activate the full version of the program by resgistering it using the specified email address and the received activation code.

TERMS:
You get a 1 year license for 1 PC, for home use only.

Free updates to new versions are available during the term of the license.

No free technical support.

After obtaining a license, you can reinstall the program any number of times. To do this, save your license data.