Auslogics File Recovery
is a high quality all-in-one file recovery software. It recovers deleted files and lost partitions, quickly and easily. Quickly choose file type, location and scanning method with the built-in Recovery Wizard.
With Auslogics File Recovery software you can recover ALL file types: documents, music, photos, videos and every other file type you can think of. File recovery made easy!
Recover your files from ALL storage media: (external) Hard Disk, SD Card, Flash Card or USB Stick. Even after a quick format. No need to worry about what file system your files are on.
Auslogics supports file recovery from ALL major file systems: NTFS, Fat16/32, and exFat. With your software license, you can recover files from up to 3 PCs.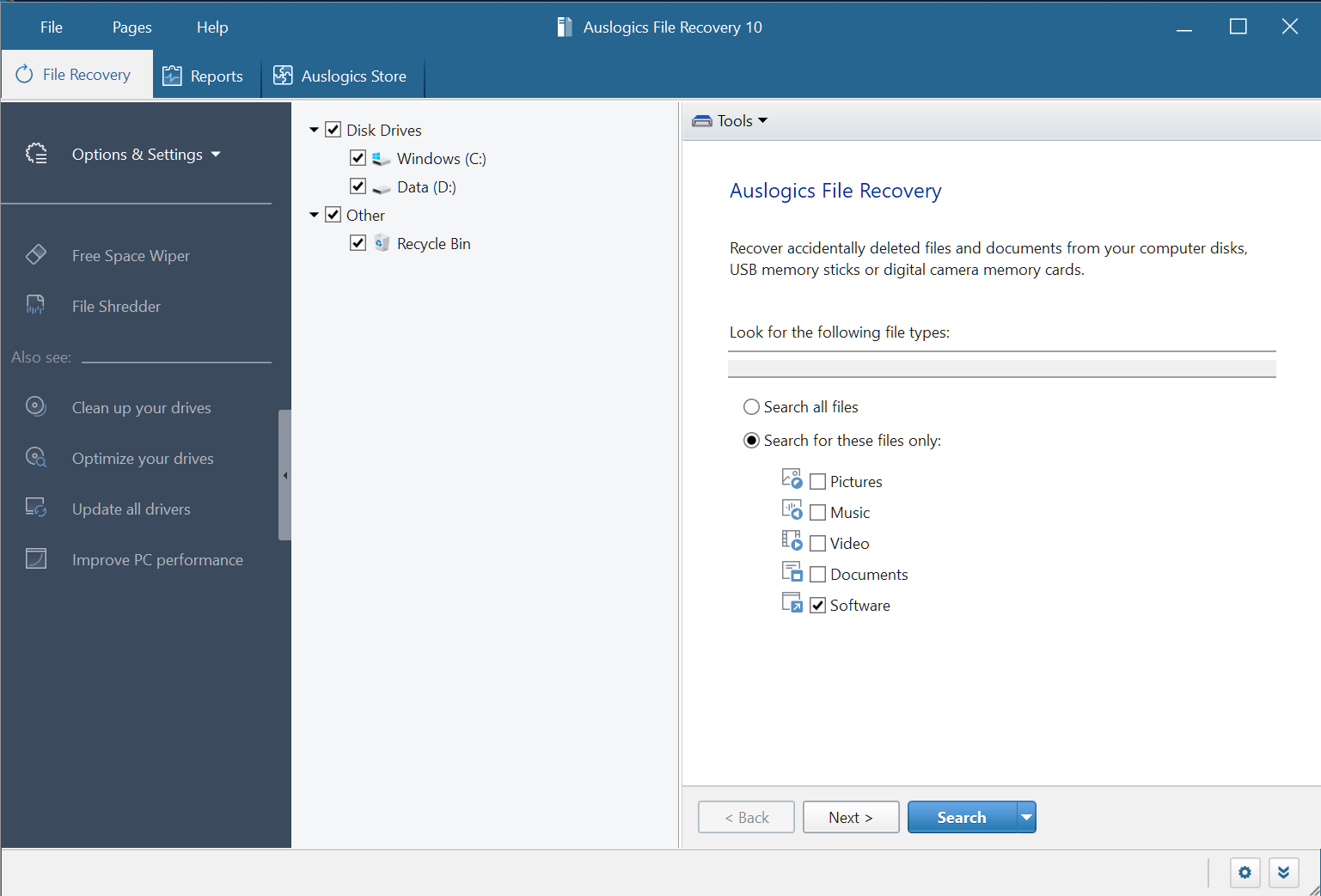 All Features:
License for 3 PCs

Retrieve all file types

Recover deleted files from all storage devices

Supports all major file systems

Recovery Wizard for quick results

Advanced Filter to sort deleted files

Deep Scan that allows to scan cluster by cluster

Option to preview before retrieving deleted files

Recovers files deleted using Shift+Delete

Save deleted files on any accessible drive

Sort deleted files by name, date, size or file type

Identify and retrieve deleted files based on their unique signature

View deleted files based on their original file and folder structure

Recover files from formatted partitions, even after reinstalling Windows

Recover deleted files from SATA, SCSI and IDE drives

Restore deleted files files from USB, FireWire Drives and iPods

Recover deleted files from SD, XD and MMC memory cards

Restore deleted files files from FAT16, FAT32, NTFS, NTFS5, ExtFAT file systems



Auslogics File Recovery Extras:
File Shredder to permanently delete files

Disk Wiper to permanently wipe your hard drive

Disk Image to back up a logical disk

Changes in Auslogics File Recovery 9.1.0.0 (2019-09-11)
Made some analytics improvements.

All known bugs fixed.


Homepage –
https://www.auslogics.com/en/software/file-recovery/
Supported Operating Systems:
Windows XP, Vista, Windows 7, 8, 8.1, 10 (32-bit, 64-bit).
Size: 14.2 MB
DOWNLOAD Auslogics File Recovery Trial