AOMEI PXE Boot 1.5 – Free Boot Computers From an Image on Your Network
Have you ever come across problems which your system fails to boot up when you created a recovery disk for your computer?  It could have been worse if you have a lot of computers maintained within a local area networks (LAN) and they doesn't have a CD-ROM drive nor an USB ports. If you need to perform system recovery or system installation for multiple computers and it's impossible to insert CD or flash drive, then you can benefits from AOMEI new products – the AOMEI PXE Boot.
AOMEI PXE boot is a wonderful and easy way to install operating systems on a lot of computers at once. It can start up multiple client computers within a LAN through the network by using Windows PE and Linux micro-system or your own personalized bootable image file on a server-side computer for system maintenance. AOMEI PXE Boot supports Windows 10, Windows XP, Windows Vista, 
PXE Boot Windows 7
, Windows 8/ 8.1, both on 32 and 64 bits.
What's New in version 1.5?
1. A DHCP server is integrated in the program.
2. Support to add a bootable WIM image file. 
3. Support UEFI boot mode when using a WIM image file.
How to boot computers from the network  with AOMEI PXE Boot?
1. Download and 
install 
AOMEI PXE Boot 1.5
, then launch AOMEI PXE Boot 1.5 and you will be presented with the main user interface as below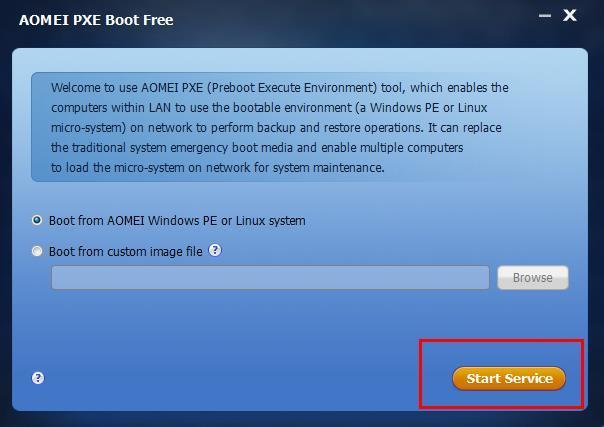 2. You can start the service by clicking the 'Start Service' button,  now you will be able to see the devices that can configured.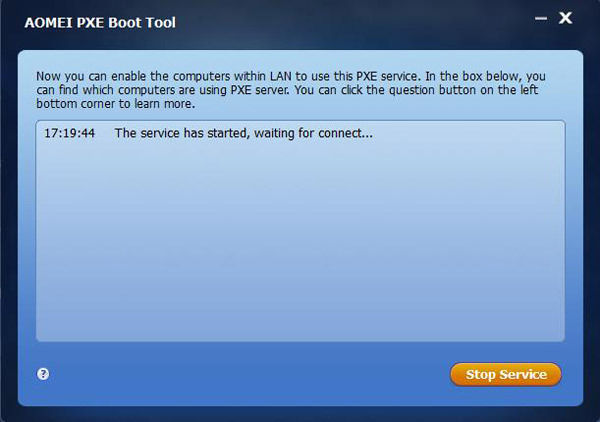 The AOMEI PXE Boot Tool is a freeware which mean it is totally free to use beside easy to use. It also come with a small installation package which about of 12.52MB file size, compared to other similar software, which is very light and mobile.
Summary
You can also use AOMEI PXE Boot Tool to command other clients or target computers to boot from these micro system. After booting, you can backup, restore or maintain system with tools bundled with Windows PE micro system. It is simple and convenient to Boot your computer over the internet!