AutoClose
This utility enables users to specify how and when to close running programs on the Windows system if they need to be away from the computer. With AutoClose users can also decide to shut down, log off, hibernate, reboot the computer or turn off the monitor after closing all specific programs. It can support multiple tasks at a time and enable to end background tasks effectively.
File size
is only 1.3 MB (portable ZIP version is 1.0 MB).
System Requirements:
 Windows XP/Vista/7/8/10 & Server (64/32 bit) 
Download:
https://autoclose.net/download.html
Current version:
  2
Sometimes people may put a file on rendering or when they are downloading a large file, or even when the system and applications are upgrading; there is no way to avoid leaving the computer on for hours. At times like these, the AutoClose application that automatically ends all activities and switches off the PC once completed all tasks would be very helpful. 
This utility application has been designed to automatically close all programs and shut down or log out of the system after a specified period. This way, if you have put a massive file on download or are converting videos or documents, you can use AutoClose to fix an estimated time until your task would be completed. You can go out or get some rest and be assured that after the specified time all running programs would be safely put to an end.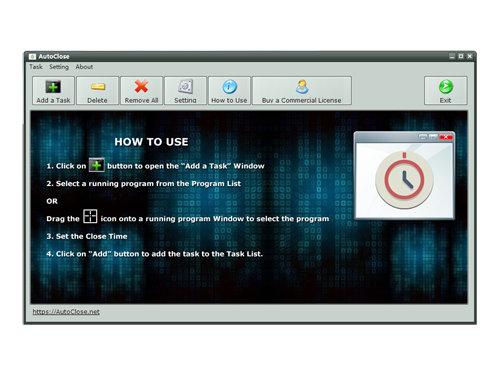 Features:
- Close Programs at a Scheduled Time
- Close Programs after a Specific Period
- Close Hidden Processes
- Auto Shutdown/Hibernate/Reboot/Log off PC
- Multiple Tasks / Batch Close
- Auto Turn off Display Monitor
- Portable Version
- Only 1.3 MB
- Free & No Limitation for Personal Use
Homepage:
https://AutoClose.net
Tutorial - How to Use AutoClose
The program is FREE for Home use, if you want a commercial license you can get a license here:
AutoClose Commercial License
AutoClose Tutorial
:
Close a running Program after a Scheduled Period of Time
How to Select a Program by the Dragging Select Tool
How to Close a Running Program at a Specific Time
How to Terminate Hidden Programs and Processes
How to Set PC Operations(Reboot/Shutdown/Logoff etc.) After Finish Tasks