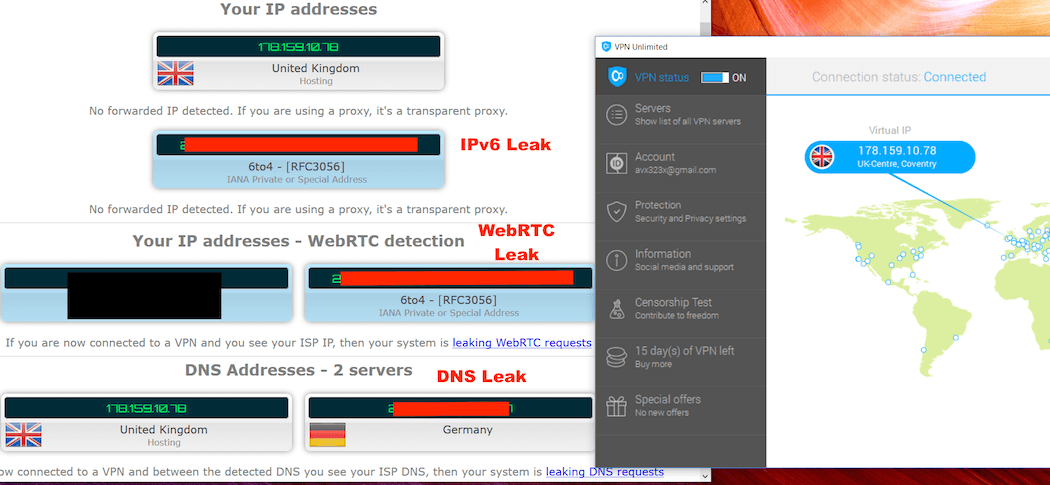 Quote:The 

dirty secret

 of the VPN industry is that 

most VPNs leak

.

One 

in-depth study

 found that 

84% of VPNs will leak your IP address

.

In other words, many of the VPN services that market themselves as privacy and security solutions are in fact leaking your IP address and/or DNS requests. These 

leaks leave you exposed

, which in turn could put you in a 

dangerous situation

 depending on your circumstances and online activities.
Also concerning is the fact that many VPNs have 

broken features

. This is often the case with "kill switches" that do not effectively block traffic or "IPv6 leak protection" that does not secure your IPv6 address. It only takes one leaked packet to expose your identity and activities.



In this guide we'll cover two different levels of VPN tests:





Basic tests

 – These are the tests that anyone can run. Simply connect to your VPN and then hit the testing sites. Unfortunately, these basic tests 

will not identify all leaks

 (such as brief reconnection leaks).



Advanced tests

 – These tests require more technical proficiency to get everything setup correctly, but they will identify any leaks you may have with your VPN. 

ExpressVPN

 put together the best tools available for in-depth leak testing, which are open source and 

available on GitHub

.


We'll start with basic VPN test procedures to identify obvious problems.





Basic VPN tests





Below are basic steps for identifying:

DNS leaks


IP address leaks (IPv4 and IPv6)


WebRTC leaks


With these basic tests, you are 

relying on the testing website to identify problems

. But as we noted above, you may have leaks that the test website does not pick up, which is why the advanced tests are the best solution.
For basic tests, I like to use 

ipleak.net

 as a general all-in-one testing site (created by 

AirVPN

) along with the different 

Perfect Privacy test tools

.



Test for VPN leaks



To test for active leaks, simply connect to a VPN server and visit the test site. You are checking to see how the VPN performs when the tunnel is 

active

 and stable.


You can also simulate different interruptions to see how well the VPN does if network connectivity drops. For example:




Connect to a VPN server and load ipleak.net in your internet browser.


Manually interrupt your internet connection (disconnect the ethernet cable or WiFi) while the VPN client is running.


Reconnect to the internet and also load a few different test websites to see if your VPN is leaking upon reconnection.


This will help you to identify obvious problems with your VPN, but it won't definitively identify all leaks (see advanced tests below).





VPN test websites





Here are a few testing sites you can use to check for different leaks:

Now let's see what a VPN leak looks like.





Identifying VPN leaks



When you use the testing site 

ipleak.net

, it is fairly easy to identify leaks and problems, especially when you are connected to a VPN server outside your country. Note, the WebRTC leak test will show 

local

 IP addresses (usually beginning with 10.xxx or 192.xxx or sometimes an alpha-numeric IPv6 address that is also local). These are not leaks, but rather your local IP addresses. If you see your real (

Public

) IPv4 or IPv6 under the WebRTC section, then these are indeed WebRTC leaks.
Below you can see that I redacted the IP addresses in red where I experienced leaks with a 

VPN Unlimited

 server in the UK.
Read the full guide HERE