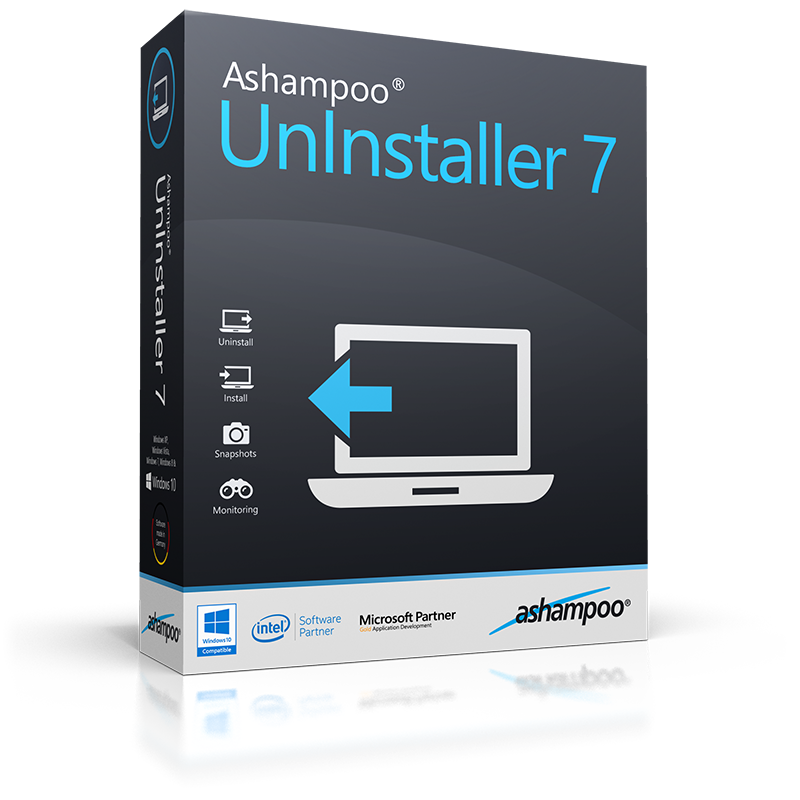 homepage
https://www.ashampoo.com/uk/pln/pin/1603...nstaller-7
OVERVIEW
Removes unwanted programs down to the last byte!
Ashampoo UnInstaller 7 makes it easy to install, test and uninstall applications. Unwanted software, browser extensions and toolbars are gone from your hard disk in just a few clicks! Never before has installation monitoring for leftover-free uninstallations been so extensive and easy to use. Even legacy applications installed prior to UnInstaller can be completely removed thanks to in-depth cleaning! Finally, the innovative super-fast snapshot feature helps you track all system modifications with ease and clarity.
Uninstall without leftovers
Windows only deletes what default installations mark as deletable - and that is very little! Leftover files, Registry entries or invalid links frequently remain after default uninstallations. These frequently cause errors or system slowdowns. Thanks to sophisticated search and cleaning mechanisms, Ashampoo UnInstaller 7 locates and eliminates leftovers down to the last byte!
Faster and safer web browsing
Unsafe, unwanted and malicious plugins are present in millions of browsers. Though disguised as nagging toolbars or seemingly helpful add-ons, Ashampoo UnInstaller 7 finds them all! Track down extensions that manage to stay hidden from your browser, review them easily with the help of built-in ratings and get rid of them if need be.
Take full control of your Windows apps
Every Windows installation comes with various default apps that are often hidden and not easily removable. Retake control of your Windows with Ashampoo UnInstaller 7 and get rid of those unwanted applications!
Installation monitoring with in-depth cleaning
Ashampoo UnInstaller 7 creates logs that fully document program installations and guarantees program removal without leftovers. Nothing can hide from the installation monitor. Installations that weren't logged can still be efficiently removed thanks to a smart deletion mechanism. An in-depth cleaning algorithm ensures that no longer required files and entries that would otherwise remain on your system will be deleted without exception.
The sonar for your PC
Snapshots give you a powerful tool to understand even the most complex installation procedures. By comparing two snapshots (before and after states), the program can detect even minute changes to your machine. Whether you want to know which Registry entries were created or where data was copied, you'll find every information neatly arranged and clearly laid out in this application. Fans of previous versions will be happy to hear that you can also merge two snapshots to create a more complete installation log!
Easily accessible pro features
Even beginners will quickly find their way around Ashampoo UnInstaller 7. With the newly designed user interface, every function is just one click away and complex procedures become easily understandable. Find out what it really going on on your PC and instantly remove what should not be there. It's one UnInstaller for beginners and professionals alike.
No more problems with nested installations
Modern software frequently relies on nested setups that install several programs in parallel and this is where many competing products fail. Ashampoo UnInstaller 7 will never fail you! Even the most complex of installations can be undone in a flash and step by step. You decide what stays and what goes!
Clean uninstallations without logs
Ashampoo UnInstaller 7 logs program installations and guarantees their removal without leftovers. Installations that weren't logged can still be efficiently removed thanks to a smart deletion mechanism. You can now get completely rid of old and no longer needed programs!
DETALIST
Removes unwanted programs down to the last byte!
Ashampoo UnInstaller 7 fires up the turbo! The program speed has been accelerated manifold thanks to new software techniques. Windows default apps can now be uninstalled hassle-free just like unwanted programs or malware. Enjoy safe and fast web browsing without toolbars or annoying plugins and track down hidden software! Use the new snapshot comparison feature to create installation logs with minimum effort, a definitive must for fans of previous UnInstaller versions! The new interface, comfortable multi-uninstallations and the integrated online search in Ashampoo UnInstaller 7 will amaze you. Experience visual clarity, more details and better speed!
Install and uninstall
List and uninstall Windows apps NEW
Create detailed installation logs from two snapshots NEW
Find and remove browser extensions NEW
Up to 400% faster application scans NEW
Up 20x faster snapshot creation NEW
Faster web browsing with privacy protection NEW
ExFAT support for flash-based storage NEW
In-depth cleaning for leftover files IMPROVED
Uninstall nested setups IMPROVED
Enhanced installation monitoring IMPROVED
Log and uninstall web-based installations
Trace any system modification through snapshots
Uninstall multiple applications in a row
Application ratings by UnInstaller community
Logged installations
Intelligent uninstallations
Full Windows integration
Info bar
Extended program management
Drag & drop installations
Clean system
Internet Cleaner IMPROVED
Drive Cleaner
Maintain system
Registry Optimizer IMPROVED
Undeleter
Startup Tuner
Service Manager
User handling
One-click interface for instant results NEW
Quickly research applications online NEW
Quality and usability-based app ratings NEW
New filters for maximum clarity and quick action NEW
SCREEN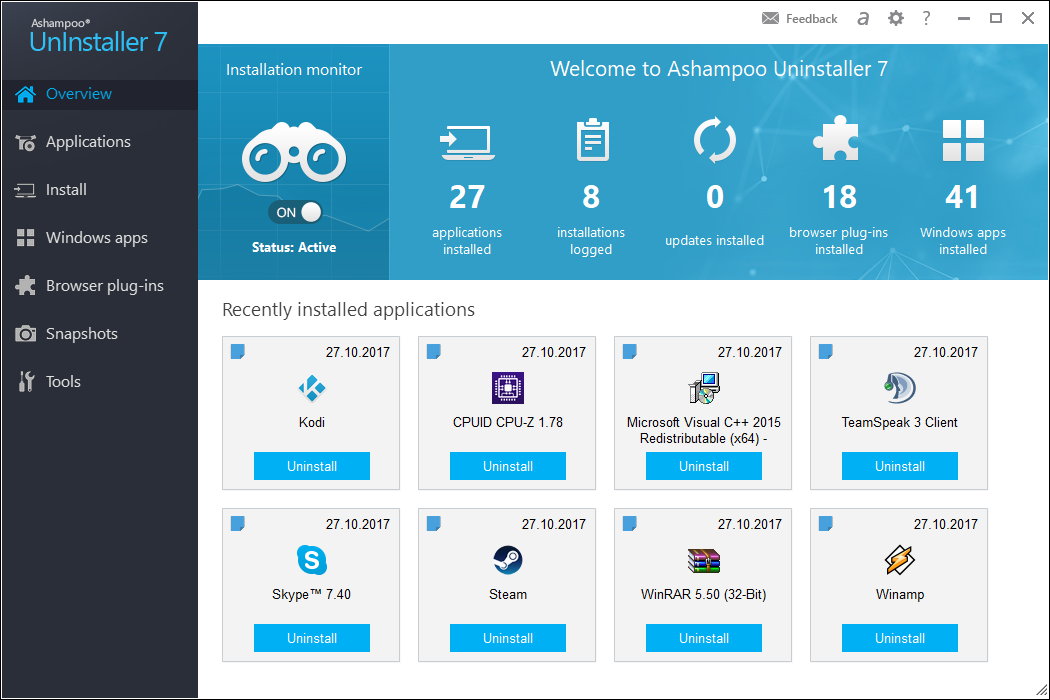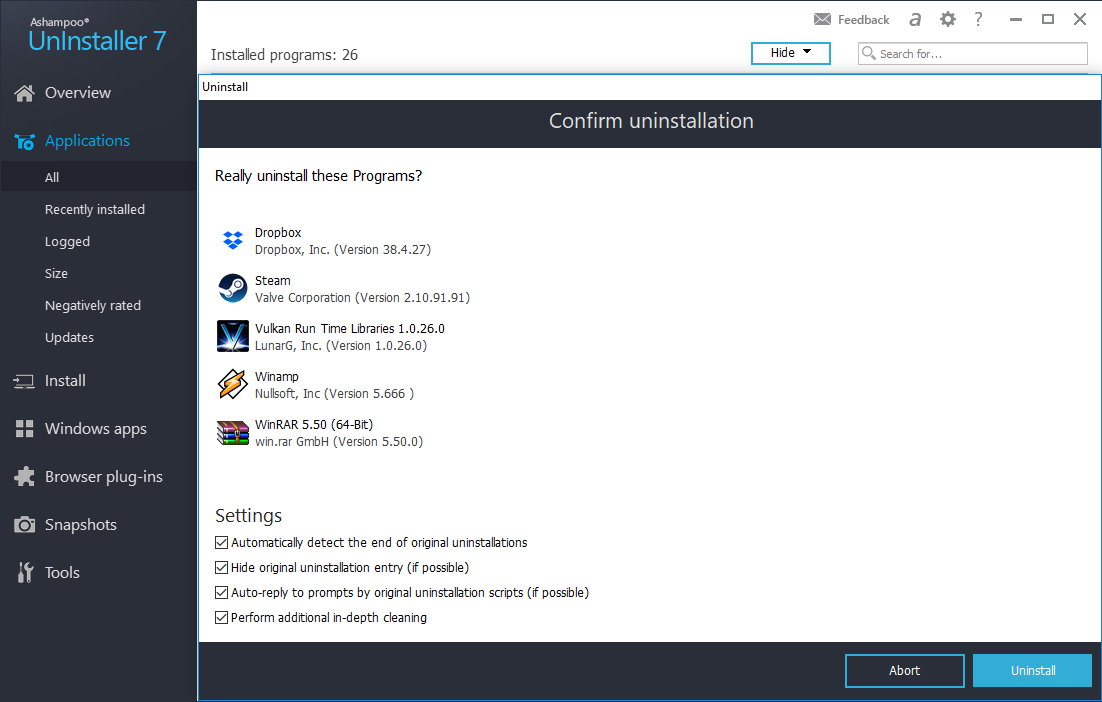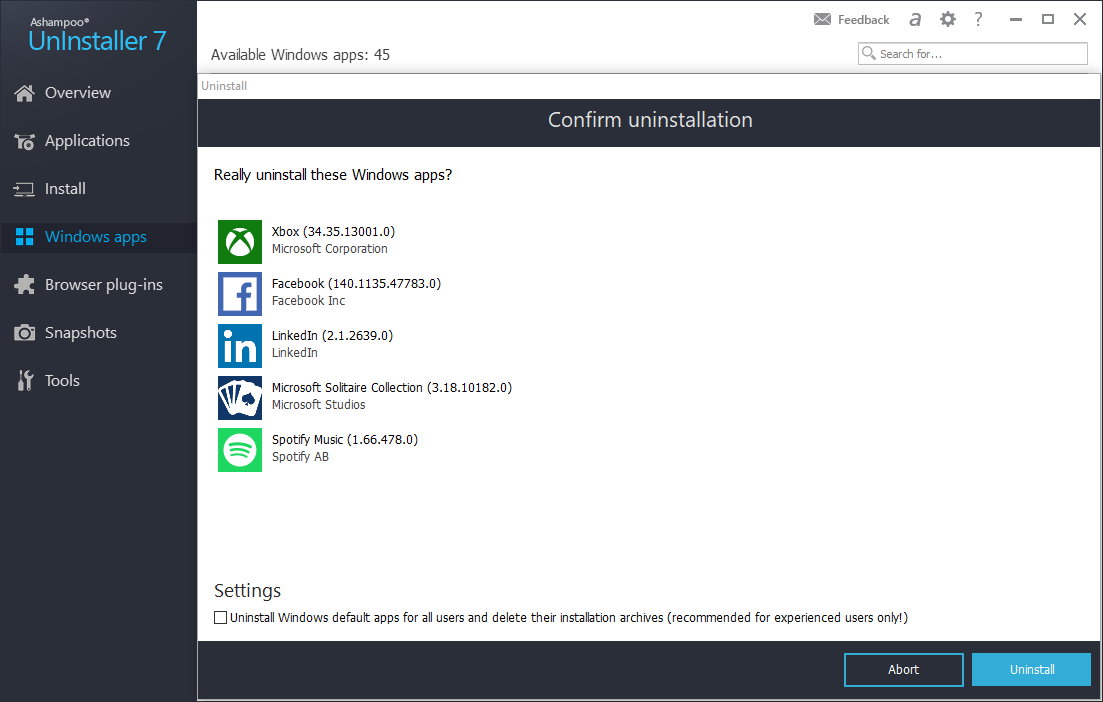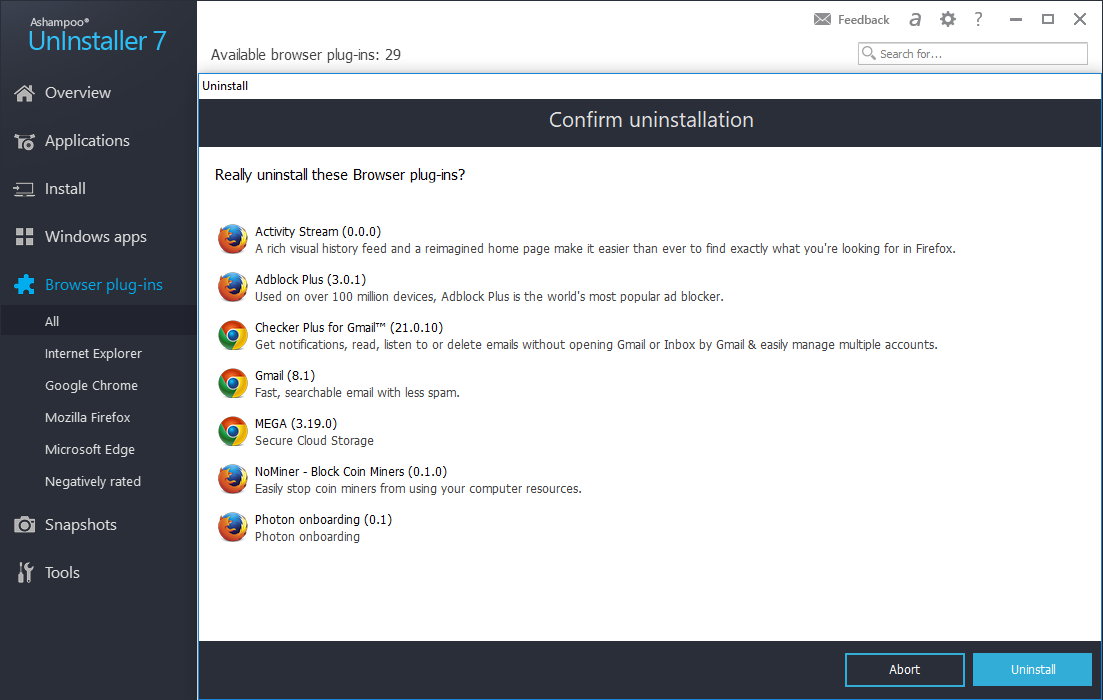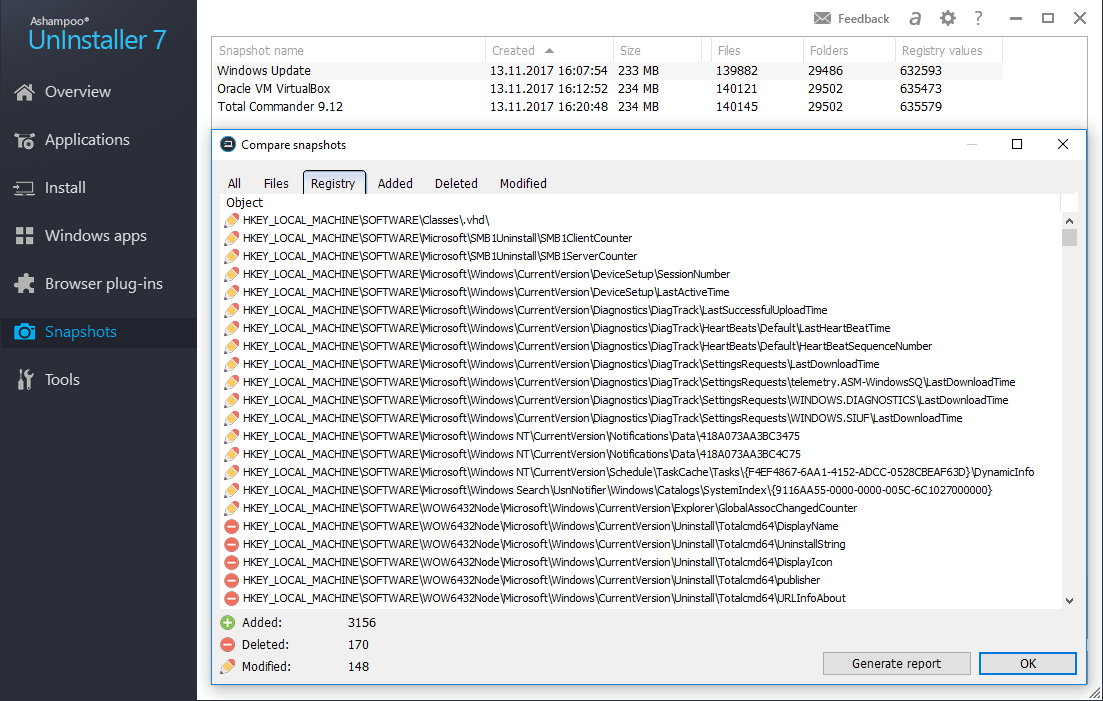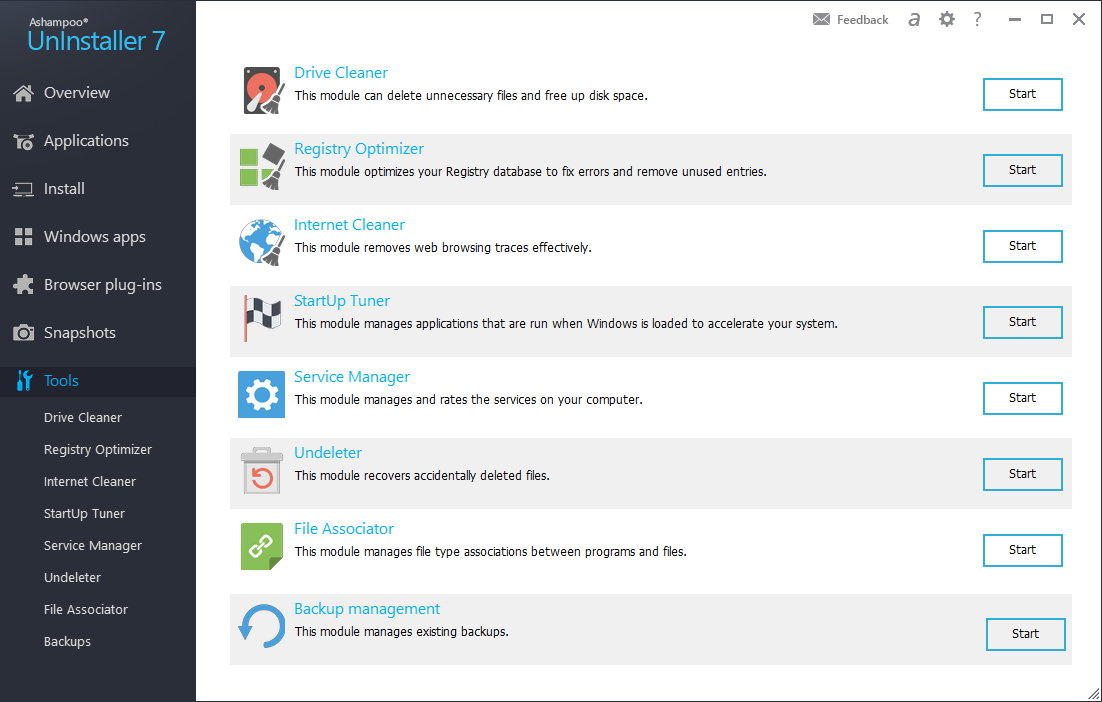 REQUIREMENTS
Operating System:
Windows 10, Windows 8 / 8.1, Windows 7
Computer:
Any computer that supports the above operating systems.
Other:
An Internet connection is required to activate the program. The program license is verified repeatedly at regular intervals.
Full administrative rights are required to use the program.