We'd like to introduce you to
Emsisoft Remediation Kit
, which replaces our Business Emergency Kit and Enterprise Emergency Kit.  All current licenses for these products will automatically port to an Emsisoft Remediation Kit license with the next product update.
Why the change of name? Simply because it better describes the ways in which our customers use it. Emsisoft Remediation Kit can be:
Used alongside solutions such as CrowdStrike to quickly remediate artifacts associated with blocked threats.
Deployed as a secondary on-demand scanner to supplement the primary security solution and remediate any threats that it may miss.
Used by Managed Service Providers and repair shops to remediate clients' systems as and when needed.
Emsisoft Remediation Kit is built on proven technology that has been used to remediate millions of compromised systems. It's an enterprise-grade solution that has SMB-friendly pricing and is used and trusted by organizations ranging from large corporations to small mom and pop businesses.
Contact our sales team to learn more about Emsisoft Remediation Kit or to arrange a test drive.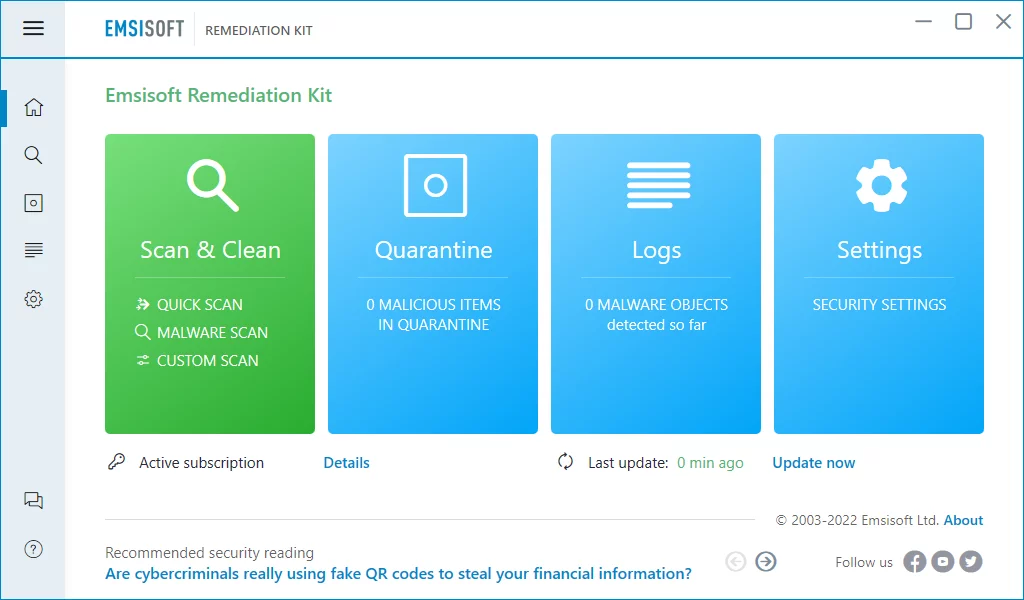 All 2022.8 improvements in a nutshell
Device protection (desktop)
New Emsisoft Remediation Kit license plan.
Several minor tweaks and fixes.
Management console (web app)
New bulk action to scan multiple devices at once.
Improved in-the-cloud behavior detection (MITRE).
Several minor tweaks and fixes.
How to obtain the new version
So long as you have auto-updates enabled, you will receive the latest version automatically during your regularly scheduled updates.
Note to Enterprise users:
If you have chosen to receive "Delayed" updates, client systems will receive the new version no earlier than 30 days after the regular "Stable" availability.
Source