Asketch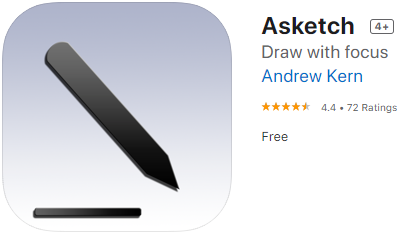 Asketch is a unique and versatile sketch pad. It allows creativity on the go, anytime, anywhere.
Its deliberate simplicity makes it perfect for beginners who want to learn to draw;
equally, advanced artists will find a wonderful buttery, tonal canvas for their life studies, cartoons, abstracts, landscapes and other subjects. The app is engineered to deliver rapid, but powerful image capture, facilitated by a great transform function that allows you to pick up the drawing, resize it and move it around the canvas, and a amazing zoom that lets you draw in minute detail. So if you want to put a traditional, but digital sketch pad in your pocket, this is the app for you.
https://apps.apple.com/app/id371723593