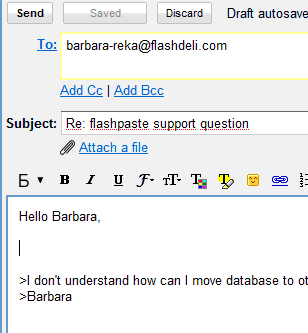 The best tool for inserting text templates

Flashpaste is a new breed of text copying utility. It provides a powerful and highly effective solution for saving time. Instead of typing you can use text templates in a way that greatly extends the standard Windows clipboard. Of course the Windows clipboard is enough for most computer users but in many cases, it simply lacks the features that are required for saving time and getting the job done reliably and quickly. Many groups such as writers, coders, and developers need a more powerful, easily customizable and practical tool. Flashpaste is all that, and more.
Who should use Flashpaste?
Every user who types the same things over and over:
writing e-mails, talking in chats or on forums, writing often-repeated text: standard phrases, greetings, URLs, e-mail addresses, logins, passwords etc.
Software developers:
for pasting common code templates, writing documentation, providing technical support, sending e-mail to users etc.
Web developers: to copy & paste HTML codes, insert current time and date, standard texts, paths to files, URLs and much more.
Technical support or customer service workers:
to copy and paste standard answers when providing technical support via e-mail or web-based systems.
And other people who often work with text...
System Requirements:
OS:
Windows 10/8/7/Vista/XP
Program Description:
Trial
: Fully functional evaluation version good for 30 days.
Version
: 6.4
Release date
: February 16'2019
Size
: 2.7 Mb
Portable
: Just extract archive to any folder and run flashpaste-portable.exe
Localization
: Bosnian, Bulgarian, Croatian, Czech, Danish, Dutch, English, Finnish, French, French(Canadian), German, Hindi, Hungarian, Italian, Korean, Norwegian, Portuguese, Romanian, Russian, Simplified Chinese, Slovak, Spanish, Spanish(Mexico), Swedish, Thai, Traditional Chinese, Turkish, Ukrainian
Installation and configuration wizard:
This is very easy, you can use the portable version or the application simple installation
User Interface:
The user interface is very friendly and easy to use. You can access most features simply using right click menu of the toolbar icon
Menus:
File:
String:
Help:
It has 3 MAIN Features:
Smart text insertion
Create macros
Clipboard history
All common phrases in one place!
Create templates and paste them instead of typing:
template texts, boilerplate answers, frequently used phrases, addresses and many other things.
Plain text and Formatted text (RTF):
you can create template texts using styles, bold or italic fonts, colors, bullet lists etc.
Unlimited number of strings, folders, nesting levels.
Insert text into the current window or simply copy it to the clipboard.
Use the clipboard history:
you will always have handy ten latest texts copied to the clipboard.
Fully Unicode support
- any languages, any characters.
Speed and convenience:
Speed up your work:
Paste standard text using one hand - all operations can be performed using keyboard only.
Expand text abbreviations in any program.
Type a few characters and get whole sentences.
Quickly paste the most recently pasted text
- save a few more seconds.
Pasting template text does not alter the current content of the clipboard.
Automatic backup:
we care for your data. Flashpaste will automatically make a backup copy of used databases.
MultiLingual
:  
More than 20 interface languages. 
Macro functionality:  
there are many different types of macros supported. These include the ability to automatically paste the current data and time into a template, without having to manually alter it once the text has been inserted. Many other macros are supported as well.
Insert time
: the current date and time will be automatically pasted in any needed format. Time shift.
Control keys
  control other applications by sending them control key presses.
Clipboard contents
  use the text contained in the clipboard or clipboard history.
Use microsubstitution inside the template text
  select the necessary line when pasting, use random string from list or random number.
Open documents, websites, launch applications
- Flashpaste is multifunctional.
For Business:
Network database
: store your database on a local network server and give your colleagues the possibility to use the same texts from one database.
Additional local databases
: do you use a single database for the entire office? Each employee can use his or her own unique standard texts.
Dictionary
: is more powerful tool to customize common texts for each user
Silent Installer
: install Flashpaste on a large number of computers in your local area network at once using the same settings for all users.
Ideal tool for customer service department, medical institutions, developer teams and many others...
Clipboard history

This feature is very simple and extremely useful. The program will greatly extends the very limited Windows clipboard feature and the more advanced clipboard features included in many productivity applications.  Every time you copy something manually, you will be able to paste it again with just a few clicks of the mouse. 
The clipboard history is saved instead of being overwritten every time you want to go back to previously typed work.
What's new in version 6.4?
Added: Clips - a new type of item. In Clip, you can store everything that you can copy to clipboard - text with html-formatting (for example for Gmail editor), images, files...
Added: New function "Type in" for string - type text by keystroke emulation.
Added: New global hotkey - paste current clipboard contents as plain text.
Added: Automatically expand the string tree when searching.
Improved: Better support of High DPI.
Improved: Compatibility with Windows 10 and Edge browser.
Improved: A lot of other changes and improvements.
How to use?
First you should enter the strings you need in the database and specify the hotkey opening the dialog box for selecting strings. This is done in the settings dialog. Now the application is ready to work. Simply, use the hotkey and the dialog box for selecting strings will appear on the screen. You can also use the keyboard, the mouse or by pressing the hotkey, select the necessary string and press "Enter". That's all!
String Selection Dialog Box

The String Selection Dialog Box is a special dialog box for selecting the string to be pasted or copied.
Flashpaste menu in system tray

You can use this menu both for accessing service functions and for inserting text.
Add String Dialog:
Program Options:
These are accessible in files menu or simply using F4
I would like to thank Flaspaste Team fo this giveaway
Terms of the Giveaway

:
1-computer lifetime license for personal use only.
Free updates
No free tech support
Install at any time
How to Get your FREE License?
Download the text in the attachment, visit the link then enter the required details.
Help files:
http://flashpaste.com/onlinehelp/
Homepage:
http://flashpaste.com/
Download:
http://flashpaste.com/download.php
Changelog:
http://flashpaste.com/onlinehelp/whatsnew.html