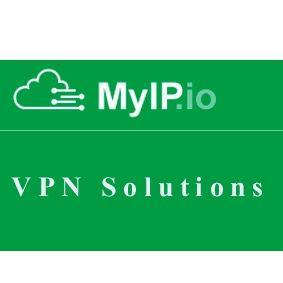 MyIP.ioVPNReview: StaticIPsAnd Robust Encryption At Unparalleled Costs
With data collection and data selling as hot topics in this year's April agenda, a global cyber attack in March coming up to net neutrality repeal in May, 2018 has been a really tough year in terms of data security. And it's only July. When Congress votes against the data selling and data collection FCC rules , when cyber attacks like WannaCry struck globally or when the very principle of net neutrality is shattered by a big fat repeal, one can only take online security seriously or suffer the consequences.
Still not sure how these events affect you? Bare with us while we explain; chances are you're already affected by at least one of the above, if not by all. Simultaneously. 
The days when your ISP was required to ask for permission before selling your browsing data to 3rd parties are long gone, gone since Congress voted against the said FCC regulation to be more exact. The freedom of giving consent over the selling of your browsing data is no longer afforded to you, your ISP is taking that decision on your behalf and this "state of affairs" has been going on since April of this year. To make matters even worse net neutrality gave even more freedom to your ISP following up in May, when it became legal for your ISP to create "fast lanes" for preferred partners, throttling access to services they are not partnered with, like say Hulu instead of Netflix and the list goes on. If we add the ransom ware cyber attack, aka WannaCry, to the mix, we get a pretty clear picture of today's digital world:
a larger than life informational land, filled with security threats in disguise, seasoned with distractions and counterfeit freedom of expression.
But the digital world has become so pervasive, so deeply engrained into our ordinary, daily routine that simply opting out of everything is no longer a viable solution. Rather than closing all shutters, we should think about real solutions to overturn the negative effects of these events, while still functioning in the real digital world.
OVERTURNING NEGATIVE EFFECTS WITH A VPN SERVICE
The no-brainer here is to use a VPN solution as all your data will travel through an encrypted tunnel, so that your ISP can't make sense of it. You will avoid a lot of drama by simply going with a VPN solution, since you will no longer be sharing personal data with your ISP. Browsing data, connection logs, your banking details and social security number, all will travel encrypted from end to end. 
VPN PROVIDERS
There are a lot of VPN providers to chose from, but since you're choosing a middleman between you and your ISP, it is important to chose your provider wisely.
A wise choice would be, first, to go with a paid subscription, as for the most part free VPN services might be making their profits by sharing your bandwidth with other user
. Remembering that there is no such thing as a free lunch when shopping for a VPN is key as going with a free service might defeat the whole purpose of protection.
PR
ICING
In the past couple of months, we reviewed a few VPN services and we came up with a favorite in terms of
good pricing, reliable encryption and excellent customer support
:
MyIP.io
. A paid subscription with them ranges from $2.49 to $29.99 and covers for a lot of VPN needs. For the lowest price point, you get a VPN service that comes with a dynamic IP and the latest security protocols like L2TP and IPsec. This kind of product is usually marketed at $12/ month, so it's a really good deal that you should get advantage of while it's there. The 5 bucks plan with MyIP.io comes with a static IP, which is a feature that you will rarely get with other VPN providers. The static IP feature is usually marketed as an add on and you will pay an average of $9 for it. At MyIP.io you can get that very same service (minus the branding) for $5.99 a month. Again, a good bundle, considering that it comes with a diverse server location, all the latest encryption and open ports (in case you want to use PPTP).
The premium product priced at $29.99 is a very rare offering, in the sense that it was designed for teams and you can accommodate up to 50 simultaneous connections on one master account
. On this plan, MyIP.io will allocate a whole subnet for you and your team. You will have a master account in the cloud where you can manage users and payment with ease.
DEVICES
Keep in mind that you will need to use a VPN for all your devices so getting one that's compatible with your mobile and desktop OS is of the essence. MyIP.io VPN is compatible with all major OSes, you can download the app for each from an easy to use client area, where you'll have all the options available and can be guided through the whole process of installation by the technical team, should you need it. 
SPEED
Uploading more than a few hundred MB usually gets your connection slower by the minute with most VPN providers, not with MyIP.io, though. Your connection will be undisturbed and will run smooth with high speed uploads with MyIP.io. 
LOCATION
Top locations California to Florida, from the United Kingdom to Germany or Australia to Singapore and Japan; you can use Myip.io VPN to access geo-restricted content from virtually anywhere in the world
ZERO LOGS
Recalling how a VPN provider can be just as damaging as your ISP could, it is important to chose one that has a zero logs policy with a robust encryption to make sure your data really is protected from prying eyes. By design, MyIP.io can not store personal data of their users and uses all the latest security protocols such as SSTP, PPTP, IPSec, L2TP, SSTP and 128bit –AES, OpenVPN cipher for encryption.