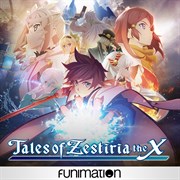 Tales Of Zestiria The X, Season 1
The legend of the Shepherd, a savior who will bring peace to the seraphim and human worlds, becomes reality for Sorey after a fateful encounter in the ruins. Sorey and his seraphim companion Mikleo must leave their home and face the Lord of Calamity.
Promo:  You are not allowed to view links.
Register
or
Login
to view.
[Use North American IP if there is a problem retrieving the product]
Available on:
Xbox One
HoloLens
PC
Mobile device