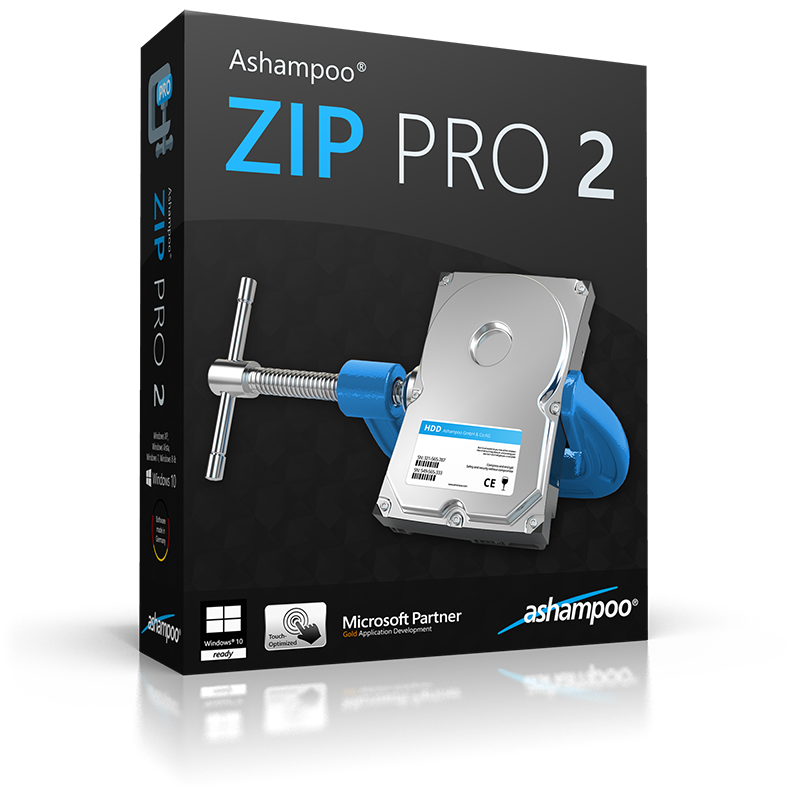 Ashampoo Zip Pro 2
is not a simple compression tool, it is a full suite that include a lot of tool sand features that help you to perform a lot of functions. It lets you easily do compression, extraction, encryption, backup, FTP access, explorer integration and many more features. The explorer integration will make the program features you need available on right click menus. The program also lets access, open, perform backups in the cloud space. You can have the program available with you in any place you go with the help of the portable version offered to you with the full version. The program is of great help to you.
Homepage:
You are not allowed to view links.
Register
or
Login
to view.
Version
2.0.0
Release date:
 2016/10/14
Download:
You are not allowed to view links.
Register
or
Login
to view.
Size:
60 Mb
System Requirements:
Windows 7, 8, 8.1, 10 both 32 and 64 bit versions supported. 220 Free HDD space. Some additional space may be needed for backup files. Internet connection is required for some of the program services
Download, installation and activation:
After complete download of the program from the official website, simply double click on the installer and follow on screen steps till the program is installed on your system. The program will offer you 10 days free trial. This can be extended to 40 days using simple email registration online form. The trial is fully functional similar to the full version. If you need to continue using the program after the trial is over, you need to purchase a license key. This is available from the official website at a reasonable price of 39.99$. You can activate the program online using either the email used during purchase or the license code. Now, you will enjoy lifetime use of the program with updates for the current version
User interface: 
In order to use the application, first let me explain the user interface which will make it easy to use. The program has a very friendly well arranged user interface. It include three main parts: on the right side archive, in the middle applications and on the left side tools. In the upper right corner there are the settings and help files. Each of the three main parts include many underlying tools and features. The menu and functional toolbars appear on the upper part when opening an archive or using the explorer function. The program is skinny and you will be able to select the skin you like.
Uses and Features:
Quickly opens your files and assembles multi-part archives with ease.
Support many formats as ZIP, RAR, TAR, CAB and many others
Helps you to compress, extract, encrypt or send files
Create self-extracting archives
Multi-core support
Includes portable application version
Full 256-bit encryption
Excel and Word add-ins to compress, send and encrypt document
Includes Outlook add-in which enables you to compress and encrypt your mails securely.
Split-view Explorer with additional ZIP features
Access main features quickly through Windows Explorer right-click menu
Supports 4K displays
Built-in cloud support
Use virtual drives
Encrypt or sign documents
Automated backups
New features:
The developers ad many new features in the current release to make your job more easy and to suite all your needs. To visit all the program features including the new features added, please visit here and select details button:  You are not allowed to view links.
Register
or
Login
to view. 
You are not allowed to view links.
Register
or
Login
to view.
Now let me discuss the program features:
Archive features:
Using the program , you can easily create a new archive for any file or folder on your computer. You will be able to split the output archive into many parts if large size. If you need to add security to your files, the program lets you easily encrypt your files. Also you can make the program the default app for the compression formats, which make it fast and easy to open any file on your PC. This will save your time. In addition, you can add, remove or edit files from an archive according to your needs.
If you want to extract the contents of an archive, you can easily do this using the program or the right context menu. The program has many built in archiving tools that will help you to do many jibs in an easy and simple way. You can extract multiple files simultaneously (using multi extract in tools section), create multiple archives from individual files (using batch archive creation located in tools section) and repair archive if you are facing troubles with one of you archives.
There is a powerful SFX creator built in the program that allows users to create .exe file which can be opened by any user without the need to use compression software. When the user run this file, a dialog box will pop up and allow the user to select the "Extract To" folder by using a browse button or by typing in the destination folder name manually into the field. You can also easily convert any compression format into another one using the program (for example from Zip format into 7-ZIP)
Windows Shell Integration makes many of these features available through the right context menu which will facilitate your job and saves your time. For example you can create, extract, open files easily using this feature.
Encrypt and decrypt files:
Using the built in security suite, the program lets you secure any data on your computer with the most powerful encryption formats currently in use. For example  .pae and .pae2 files, ZIP AES, 7-zip AES and OpenPGP. This is important if you are using email or FTP connection to send private or confidential data. You can use the encrypt button under application menu or launch the encryption suite and use encrypt. You will be able to select the file you want to encrypt. Finally add security. That's all!
To Decrypt encrypted files, simply click the
"Decrypt Files"
button in either Ashampoo ZIP Pro start screen or directly in Ashampoo's Encryption Suite then enter the password when needed. You can specify the destination folder for decrypting files and folders
The program supports office and PDF format security. You can use it to encrypt, decrypt, sign and verify documents. This feature is very important for many users interested in this type of files in their work and daily activities.
The OpenPGP Key Manager can be started using Office/PDF Security or the Encryption Suite directly. It allows you to add, remove, revoke, export, sign and upload/download your OpenPGP keys to OpenPGP server.
Ashampoo ZIP Scripts:
 This is a built in powerful backup feature which tell the program what to backup and how to do so. You don't have to do anything manually. Theere is a wizard which will do everything for you. It will automatically select a backup format, add timestamps to the backup archive name, upload to secure FTP or cloud space and many more. You can schedule the process to be automatically done without the need to be present all the time. This is done using the Windows Task Scheduler. This will save your time and make the process very easy for you
Ashampoo Virtual Drive
:
Todays, It is preferable to do backup of your purchased software DVD's to ISO files. This is important for you because of many reasons. First, you will be able to use them easier with Virtual Drive. Second, DVD's have short life and it is quite possible that it will not work that when you need it again (for example due to scratches). This become very easy using the program. Ashampoo Zip Pro 2 has a built in virtual drive tool that will let you create ISO files from disc using  copy disc to Image (.ISO) tool located under "Burner" menu.
In addition, you can use the mount feature of the virtual drive to create virtual dvd's from ISO images stored on your computer. You will not need to burn the ISO image first. It is most useful to backup your important DVD's to ISO images and then use them later on without having to burn the disc.
This feature needs purchase of the program!
Ashampoo File Explorer:
Are you missing the old, split-view Windows Explorer? Ashampoo ZIP Pro 2 comes with an integrated file explorer that features a classic split-view and adds features to compress, extract, burn and send files along with many other useful functions! Create and open archives or send them to the cloud, connect to FTP servers or enjoy the powerful file preview feature, it couldn't be any easier. This feature is powerful , intuitive and self-explanatory. Enjoy the file explorer you always wanted!
Preview Window:
Preview Window is an window inside of main Ashampoo ZIP interface that lets you preview archives, images, movies, text documents and more, without opening archive or file. It works when you are browsing archives. It is very useful when looking for particular picture or any kind of file.
Settings (Configuration)
This is the program settings. You can access it by selecting "Configuration" present under the "Options" menu. There are many options which are arranges as buttons. You can open any option to view the settings included. These are divided into: interface, file format, general, file extensions, RAR archiver, security and FTP profile
Pros:
Powerful archiver application
Encryption features
Skinny with easy to use interface
Virtual driver
Classic split-view explorer
Cloud support
and many more
Cons:
None
Conclusion:
Ashampoo Zip Pro 2 is an extensive suite loaded with tools and features that will let you help you in compression, extraction, encryption of files. You will become a file compression expert. It even includes backup functionality and comes with an integrated file explorer that features a classic split-view with cloud support, FTP access and, naturally, all ZIP core features. The program is recommended for all users. It will help you and save your time